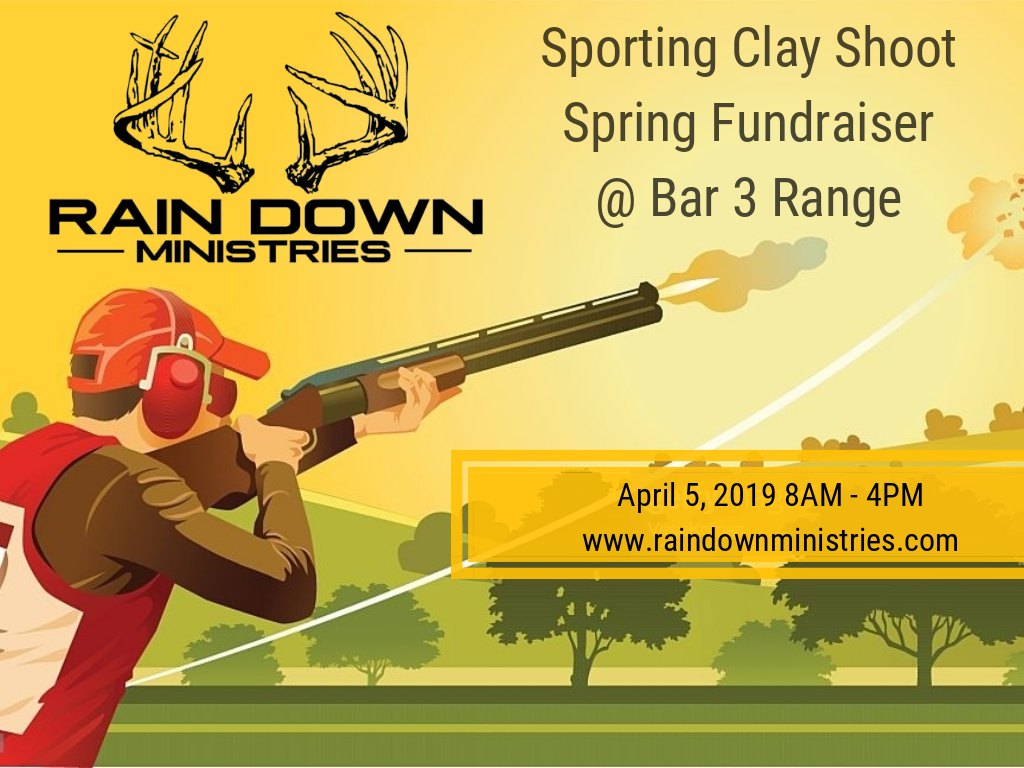 On Friday, April 5, 2019 we will be hosting our first Rain Down Sporting Clay Fundraiser at Bar 3 Range in Laurel, MS. We could not be more excited about the sporting clay shoot and look forward to it being an annual event. We will have a morning flight starting at 9:00am and an afternoon flight starting at 1:00pm. For each team of 5 shooters the entry fee will be $125 per shooter. The shoot will consist of a 13 station course with 100 rounds total being shot. We will also have ample opportunity for fun shoots including 5 stand and long bird. There is also an option of shooting a practice round on Thursday, April 4 from 1-5pm at Bar 3 Range for $40.
We will have lunch and refreshments throughout the day at no cost. There will also be many opportunities for each shooter to win door prizes and participate in a multi gun raffle.
Shooters are responsible for their own transportation and shells. Bar 3 Range can arrange for transportation if needed. They will also have shells available for purchase if needed as well.
PAYMENT TYPES AND DEADLINE

Make checks payable to Rain Down Ministries. We also have the ability to accept debit/credit cards with a 3% processing fee. You can pay with a debit/credit card by filling out the appraise section on the entry form or by calling PJ Weeks at 601-344-8777. 
Entry team deadline with payment is due Friday, March 22, 2019. If you do not have 5 shooters for your team please let us know and we will accommodate as best we can.
SPONSORSHIP INFORMATION
Our sponsors make it possible for us to impact the lives of youth hunters. We simply could not do what we do without them. We want you to consider being a sponsor for this year's Rain Down Sporting Clay Fundraiser. Scan through the options below to see what each sponsorship level includes and/or click the button below to download the sponsor form. 
RAIN DOWN SPORTING CLAY FUNDRAISER SPONSORS